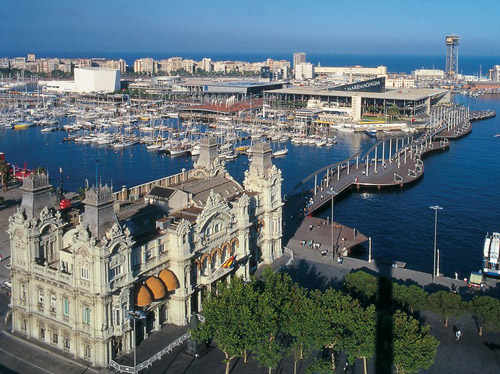 Cheap airfares are now available to most European cities which makes a vacation accessible and easy on the pocket, if you're searching for that perfect passionate getaway, a backpacking adventure, or just a place to chill for a week then get online and see what's available.
Barcelona is not only a contemporary and fashionable city, it is also very liberated and this is clearly shown in its magnetism to celebrated artists and architects, where they take roots and become a part of the city in the form of its art and architecture.
Barcelona houses many great painters and sculptors and they are instrumental in contributing to its superiority over other cities in the form of architecture and art galleries. Pablo Picasso and Tapies both have museums dedicated to their works which will take weeks if not months for you to fully visit. Stretching from La Ramblas covering the old port of Barcelona and the Placa Catalunya, a whole day can be dedicated to walking around the Barri Gothic Quarter with no need to go any further as there plenty to see and do. Wander around the webs of the narrow paths sandwiched between tall buildings which lead to delightful squares, and then take a rest in one of the alfresco cafes full of bustling tapas joints in the area.
Hailed as the creator of several techniques applied in contemporary construction in the twentieth century, the important and ingenious influences of Antoni Gaudi have unquestionably molded Barcelonian architecture. Any architectural trip has to start with Antoni Gaudi, the greatest Catalan architect there ever was.
The must see Gaudi masterpiece is Park Guell, which dates back to 1900 when Eusebi Guell commissioned him to construct a garden city proposed for the cream of the society. Gaudi was very much motivated by nature and this is reflected in the curved construction stones, twisted iron effigies and animate shapes. There are some notable examples in the park including the Gaudi dragon fountain at the entrance adorned in vividly coloured tiling, and Casa Museu Gaudi, the dwelling where Gaudi spent most of his time in. The top of the park can be accessed by a steep climb but it is worth it as you will get an amazing view of the park and the city. There are all types of public spaces to enjoy in the city such as the beaches and parks. Its open spaces can be enjoyed simultaneously by the young or old, from the promenades to the well known Guell Park, and the other would be Park de la Ciudadella, a park in Ciutat Vella famous for its galleries and boating lake.
Make sure you take the Tramvia Blau up Tibidabo Mountain for the amazing views and fun cycling tours where you can discover the natural environment. If you have time left the Funicular de Tibidabo, which will take you all the way to the amusement park at the top, with most of the rides built around 1889, giving the park a traditional ambiance. In addition to architecture, Barcelona is also embraced for its art of living it up at night, where there is a variety of bars and pubs covering virtually every theme for all flavours and budgets. Barri Gothic and Las Ramblas, both in the city centre, have a wonderful Gothic atmosphere thus exceptionally favoured by foreigners as well as locals. The area is full of cool clubs and bars, and also a wide selection of chic spots together with the usual tourist places. Barcelona also has a great Erasmus scene where you can make new friends quickly and party in selected venues. There is a predominantly distinct electro scene, which is reflected by the number of clubs that thump away all week. There are not a lot of live music venues in the city, however blues and hip hop and alternative are also represented, plus Latin clubs with their salsa are also popular.
Keep in mind that during bank holidays, Christmas, New Year and summer holidays are the peak seasons and will be more expensive than if you choose a weekend break at another time of the year. Yet there are still those who are able to dig out cheap deals, although you will be told that the secret is to reserve well in advance. Good deals are there whichever you choose. Vacation apartments in Barcelona come in all shapes and sizes; sometimes they can be an all in studio room, while some may come with fully equipped kitchens plus recreational facilities. By default rental apartments offer clean linens, fridge, oven, kettle, cooking utensils, cable television and WIFI internet access. Barcelona provides a wide variety of different accommodation types and you should do some homework beforehand to find out what is there.