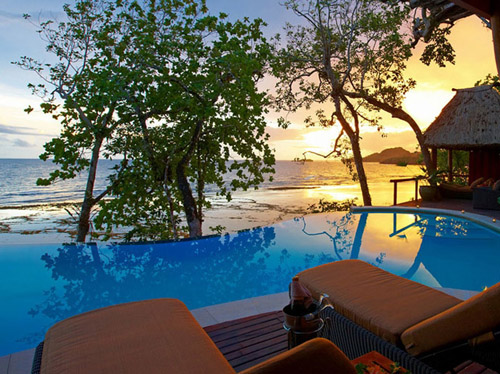 Every individual has his secret dreams, where he imagines himself amidst the lonely isle enjoying the glistening pristine beaches and getting kissed by the ocean waves. If you have ever waited to visit such a beautiful place, then come to the Fiji Islands. Gear up now for the Fiji vacations today where you will be amidst crystal clear lagoons, white beaches and unbelievable tropical beauty. Fiji is known as one of the most secluded and spectacular chains of South Pacific islands. There are almost 330 islands in Fiji, where you get the scope to come across varied cultures and people. Moreover the warmth of the Fijian culture and people is sure to touch your heart.
Fiji, a Mecca for all snorkelers and divers is a spectacular place to spend a lifetime vacation. Step in to this "soft coral capital" of our world and find over 1,000 species of fish, tropical flowers, colourful birds and exotic lagoons. Fiji vacations in this romantic and wonderful South Pacific paradise is simply unforgettable. No wonder Fiji is the right place for you if you are ready for adventures and various recreations. Explore these wonderful islands either on a bike or on horseback. Discover the wonders of the South Pacific Ocean through sailing, scuba diving, snorkelling and windsurfing. Always go for the right time when you can pick up the fabulous Fiji packages offering wonderful deals to make your vacation a special one.
Fiji is famous for unforgettable family vacations, special wedding, cherishing honeymoon, luxury resorts, diving, surfing and so on. Truly, the south pacific islands are a distinctive part of our world and they are the best place to make your dreams come true. It is the ideal holiday destination for a dream wedding, a romantic retreat, a fairy tale honeymoon and family holiday. Vacation in Fiji is simply exciting and relaxing as there is a wide range of recreational activities and numerous beautiful locations. Fiji vacations aren't complete without the adventure of sailing in cruises, exotic beach resorts and delectable delicacies. Some of the best resorts where you can stay over during your holidays are Sheraton Fiji Resort, Sofitel Fiji Resort and Spa, Likuliku Lagoon Resort, Radisson Resort and Matamanoa Island Resort.
Today, Fiji is considered as one of the most eminent tourist destinations for exotic holidays. Every year the number of visitors is increasing at a higher rate thereby making the South Pacific islands popular in the world. Fiji vacations offer holidaymakers world-wide break to enjoy warm tropical holidays, enduring hospitality and friendship and top class accommodation options. It is completely up to when choosing on the type of Fiji vacation. Whether it is a wedding, honeymoon, business vacation, family holiday, adventure holiday or just a beachside holiday, no matter what it is, Fiji has it all at your door.
What are you waiting for now? Book your tickets today to experience a wonderful Fiji vacation this year. You can be assured of a relaxing and trouble free vacation at right price. Contact a good travel agent and get an instant quote to plan a holiday at Fiji Islands.