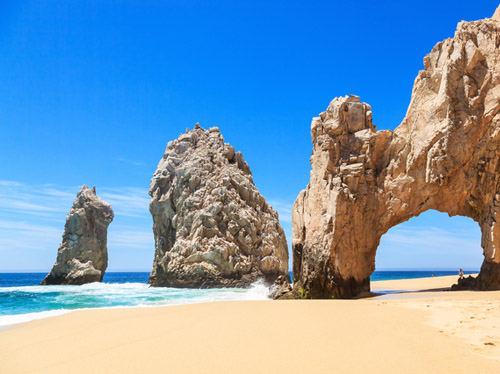 If you're planning on visiting Mexico, Cancun is probably one of the first places that comes to mind. However, that's not the only travel destination that's worth visiting in Mexico. Consider a trip to Los Cabos. Flights are available from a number of different airports, which means that the area is ideal for destination weddings, family reunions or any other gathering that brings people together. The area has a number of things to do, so those who travel there can almost guarantee an amazing vacation.
Finding Flights
Getting to Los Cabos isn't difficult. Over 200 flights per week arrive at Los Cabos International Airport from different cities in North America and the world. The airport is located about 20 minutes from San Jose and travelers can either make arrangements with their hotel or catch one of the many mini shuttles. A shuttle ride is inexpensive, but they won't leave until the shuttle is full so you may need to wait a little bit.
Have Fun In The Water
The water in the Sea of Cortes can be amazingly clear and many who travel here can't wait to get into it. From water skiing, wind surfing, parasailing and more, enjoying the sunshine and the water can be some of the most amazing experiences ever. However, if everyone in your travel party isn't a big fan of extreme sports, consider getting in the water and uncovering what lies just beneath the surface. Sea turtles, whales, manta rays, whale sharks and more all make their home in the Sea of Cortes.
If you have young kids, you're probably looking for fun a little closer to the shore. The beaches around the Sea of Cortes offer places for families to play in or out of the water. There are a number of different beaches that each offers something different, so ask the clerks at your hotel what's the best one for your group.
Places To Eat
When you're dining with a group, you have to take everyone's likes and dislikes into consideration. If you have a large group, consider booking a dinner cruise instead of trying to coordinate everyone's travel to a restaurant. You'll be able to have an entire night's worth of entertainment, from pre-dinner cocktails, to an amazing meal that you eat while enjoying the breathtaking view of the sea. Look for a dinner cruise that also offers entertainment after the meal is over.
If you're looking to dine in an actual restaurant instead of on a ship, Los Cabos has a number of options in every price range. For a fun, casual and low cost meal, consider Casianos, but if you're looking for fresh seafood and world-class cuisine, consider La Galeria Seafood and Art House. Some restaurants are more family friendly than others so consider calling if you're going to be dining with children.
A family reunion doesn't have to be boring! Instead of planning a reunion in your own town, consider getting out of the country and traveling to Mexico. Although Cancun is popular, a trip to Los Cabos is one that will be remembered for years to come.