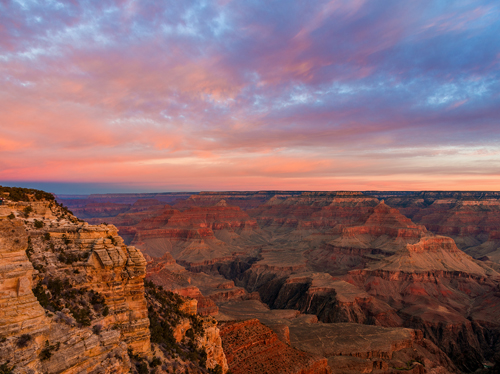 There are several tour companies that offer helicopter flights over the Grand Canyon. However, if you want to ensure you have a great experience and a comfortable flight, then you should fly on Maverick choppers. They offer some of the best tours around.
Maverick's South Rim helicopter rides take off from Tusayan, Arizona. Flights over the West Rim take off from Vegas. Vegas helicopters do not fly all the way to the South Rim. However, you can book a tour package with Maverick that includes an airplane flight from Las Vegas to the South Rim where you can then transfer to a helicopter to tour the rim. It only takes an airplane a little more than 45 minutes to fly from Vegas to the South Rim. The only other way to get from Vegas to Tusayan is by ground, and that is a 5 1/2 hour bus ride each way! You'll save a lot of time by booking one of Maverick's airplane combo tour packages.
Vegas Flights
The helicopters used for West Rim tours depart from a couple of locations in Vegas. The departure point is determined by the tour package you book, but you'll either take off right from the Vegas Strip or you'll take off from the Henderson Executive Airport. Even Henderson is only 15 minutes from all the big Strip hotels. This is a huge advantage, especially when you consider that most of the other tour operators fly out of Boulder City Municipal Airport. It's a 40 minute ride to get to Boulder City from Vegas.
Maverick is also the tour operator with the most EcoStar 130 choppers. They're superb and specifically designed for sightseeing. The cabin has more room than traditional helicopters, and the windshield wraps around the aircraft for spectacular views. The best part is the seats are arranged in stadium style, so no one has a bad seat with a poor view.
When you book a helicopter tour out of Vegas, you can choose an air-only tour or one that lands at the canyon. Creativity in its tours is what sets Maverick Helicopters apart from its competitors. For instance, you can add on an aerial tour of the Vegas Strip, a view of the Valley of Fire, and a fun champagne picnic at the bottom of the canyon (choppers can fly down to the canyon floor at the West Rim but not at the South Rim).
Touring The South Rim
The Maverick tours that fly over the South Rim are thirty or fifty minutes long. If you're short on time, you'll see a lot on the shorter tour, but the longer one is best if you can swing it. You'll get to cover a lot more ground when you book the longer tour and that means you'll see a lot more beautiful sights.
Maverick tours are all-inclusive, so they come with transportation to and from your hotel, lunch with the landing tours, a tour guide, and all fees and taxes. I love these all-inclusive tours because I don't need to do any planning – everything's taken care of.
Maverick isn't the cheapest choice you could make, but I think it's the best. You'll have a superior experience, so the money is well spent. And, if you book your flight directly on the company's website, you'll get a great deal. The Internet rate you get when you book online is usually a lot cheaper than the retail price you pay elsewhere.
Final Tip
You should book your Grand Canyon tour in advance. A lot of travelers are interested in 5-star luxury helicopter tours and most of Maverick's flights sell out pretty quickly. Avoid booking your flight the same day if at all possible. If you can find an open seat, you'll have to pay much more, just like you would if you booked a commercial airline flight at the last minute.